Description
Features
Download

Simple and accessible agricultural navigation, course indicator with course correction
AgroPilot BT30 receivers are universal, designed for the most convenient operation. Get started in two easy steps: 1)— fasten the BT30 in the center on the roof of the equipment; 2)— apply power to the receiver, plug it into the cigarette lighter socket (12 or 24V) of your vehicle through a special adapter.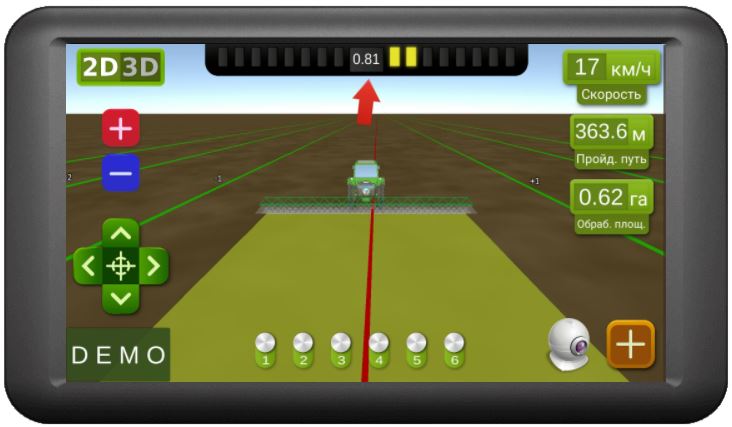 Install original free software "AgroPilot" from the store Google Play or downloaded its optimized version from this link https://AgroPilot.APP/FREE. Install and launch the application, activation is simple, enter the 8 digits of your receiver's serial number and PIN code (found in the passport and BT30 serial sticker).

| | | | | | |
| --- | --- | --- | --- | --- | --- |
| Standard size of the fastening thread | Outer diameter | Outer diameter | Drilling diameter | The number of turns on | step |
| | inch | mm | mm | inch | mm |
| 5/8" - 11 UNC | 0.625 | 15,875 | 14.05 | 11 | 2,309 |

Characteristics
Bluetooth 2.0 and TTL/RS-232
Positioning frequency

Частота з якою приймач видає дані про місцезнаходження (5 Гц = 5 разів за 1 секунду, 10 Гц = 10 разів). Чим вище частота позиціонування, тим швидше навігаційна програма відображає ваше місце розташування, оптимально 10 Гц. Якщо частота вище 15-20 Гц не всі навігаційні програми працюватимуть коректно, для таких частот рекомендуємо використовувати тільки AgroPilot GNSS.
10Hz (up to 20Hz)
Course Accuracy

Точність «Pass to Pass» – це термін, який використовується для опису потреб фермерами щодо точності, визначається як точність, яка може бути досягнута протягом 15-хвилинного вікна – приблизний час для виконання проходу в типовому полі.

+/- 30cm
GPS/QZSS L1 C/A, BeiDou B11, Galileo E1B/C SBAS L1 C/A: WAAS, EGNOS, MSAS, GAGAN
"AgroPilot" registration number No. 175901 dated 10.09.2013
Autonomous Precision

Точність, яку пристрій показує на місці (без руху) за 24 години. Для систем паралельного водіння необхідно враховувати тільки точність руху від проходу до проходу «Pass to Pass».
2.0 m CEP
Accuracy with SBAS

Точність, яку пристрій показує на місці (без руху) за 24 години з прийомом корекції SBAS. Для систем паралельного водіння необхідно враховувати тільки точність руху від проходу до проходу «Pass to Pass».
1.5m CEP
AgroPilot BT30 GPS course indicator model RU45385M3.5V5V-GGCU for civilian use as part of positioning systems, portable single-frequency L1, in a sealed case, hood-like covers (lower and upper) for long-term operation of the antenna, supply voltage 12V;